The following price is for personal use only.
​
All illustrations will be done digitally.
There will not be any physical product involved.
​
Currency are all in USD, payments will be made through Paypal Invoice.
character design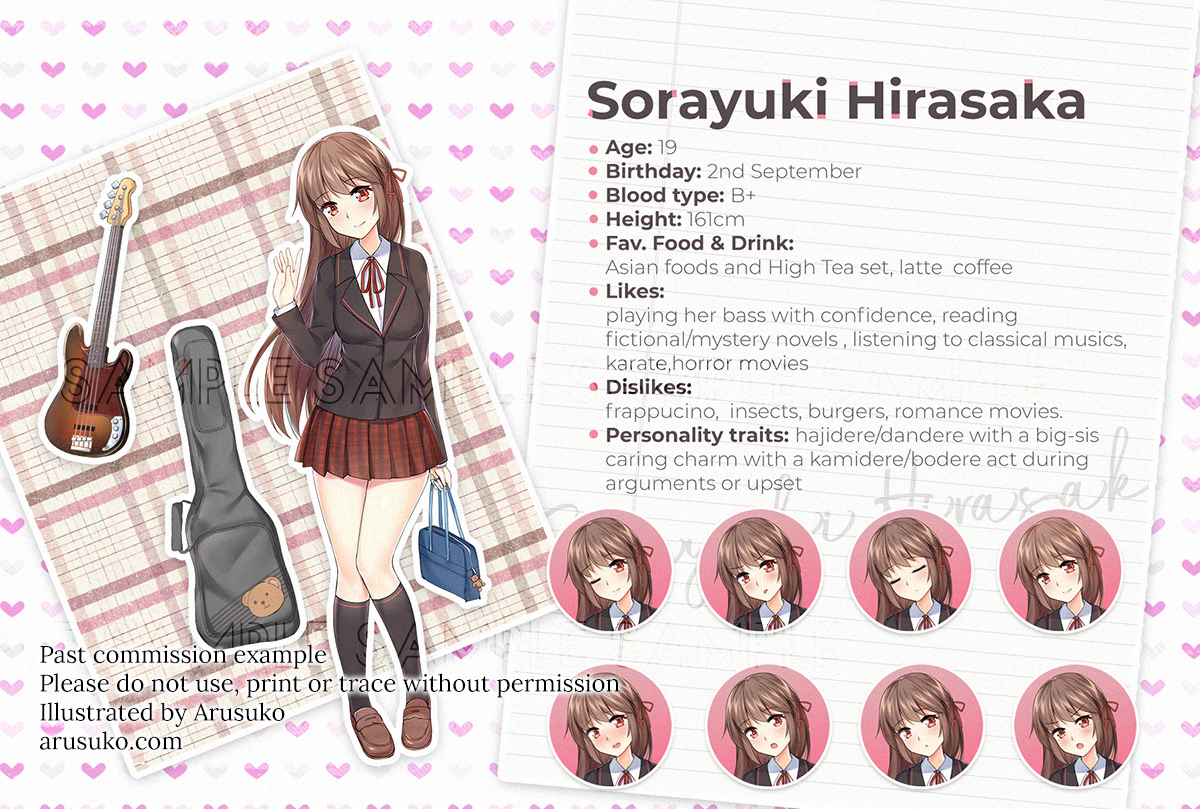 character design
character design
character design adopt
character design
outfit design
design process example
design process example
Custom designs include three idea sketches and the client will choose one design to finalise.
Full body custom design $90
​Include a full body front view illustration and two alternative facial expressions. As well as a reference sheet.
Add full body back view: +$60

Add an extra facial expression: +$5

Add NSFW base: +$45 per side

Add an extra outfit: +$50 per side

Add damaged outfit version: +$35
​
Outfit design only: $75
Full body illustration with no extra alternative facial expressions.
​
Please see the last image as a process example.
​
​
Live2D layered illustration
LIVE2D
Layering example
Layering example
*Rigging is not included, price is only for the layered illustration.
Starting price:
$190 full body

$120 for half body (drawn to chest area)
Price varies depending on difficulties.
​
Standard price will have these components: all parts of faces, hair (front, side and back), neck, chest, body, upper and lower arms, hands, thigh and calf.
​
Additional charges:
+$30 design fee for new characters

+$50-70 for additional outfit

+25 for each additional hand poses

+$10 for each additional face expression
​
I will provide a PSD file with all components drawn on separate layers
​
Detailed background (e.g. beach scene, park scene)
​
Extra prop
Pricing will vary depending on the requirement.
​
+$10-$25 for each option
Add NSFW base
​
Add an additional outfit
​
Alternate facial expression
​
while keeping the same pose in the illustration
Animate finished illustration
Blinking animation +$10
Hair animation +$15
Mouth movement +$5
Dress movement +$10
Body animation +$15-$30 depending on the requirement
Flowing/sparkling particle +$5
​
Free extra flowing/sparkling particle animation if you select two or more animation add on.
I will not post the finished illustration anywhere.
10% off the total price when you request 3 or more illustrations at once.
Can not be applied with any other offers.
You can ask for a partial payment plan.
I will offer 10% off for non-private, SFW commissions that only have characters in the anime I listed.
Please fill in the commission request form below and send it to me via the social media platform that you prefer.
You can also use the application form underneath this page and I will get back to you by email.
Title: Commission-[name]
Type: headshot/chibi/dakimakura/full body
Reference: image or description of the character/pose/outfit
​​Character personality: playful/quiet/tsundere etc.
Other request: private commission/additional outfit
(*includes extra fee because of the website system)
To avoid your email been marked as spam, please insert images into email texts instead of compressing files into zip. You can also use online albums such as imgur and Google drive when sending visual references.
Please make sure you leave an email that you check frequently. I will usually get back to you within 1-3 days via email.